Table of Contents
Join the FinOps X Conference in San Diego, June 27-30t

h
Join the FinOps community at the FinOps X conference in San Diego on June 27-30th & Finout's free (Food & Alcohol included) event.
Learn from industry experts to top FinOps solution such as Finout on how to manage & reduce your cloud spend.
The FinOps X conference is the ultimate gathering place for anyone involved in managing the value of the cloud. Hosted by the FinOps Foundation, this year's conference will be held from July 27-30th in San Diego. It will give attendees from around the world the chance to network, collaborate, and learn from one another as they share their real-world experiences in tackling FinOps challenges head-on.

This year's event promises to delve even deeper into the ever-evolving world of managing and optimizing cloud spend. It will grant attendees the opportunity to expand their knowledge and develop richer connections with experts from the global open-source community. FinOps X 2023 will be the biggest event of its kind yet, with over 1,000 attendees expected.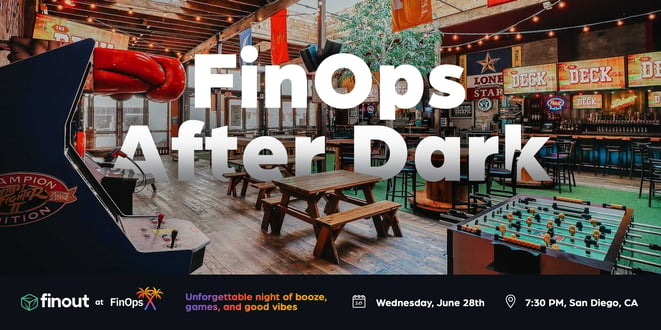 The Marriott Marquis San Diego Marina has been chosen as the illustrious venue for this year's event. It provides a spacious and comfortable setting for attendees, with the Grand Ballroom used for the main stage, while nearby rooms will be available for breakout sessions and an adjoining area for sponsor expositions. The FinOps Foundation has also negotiated discounted room rates for attendees, making it easier for them to partake in all the organized activities.

Some of the key speakers confirmed for this year's conference include Tim O'Brien, Senior Director of Engineering at Walmart, Teresa Meade, Manager of Infrastructure Finance at Atlassian, and Courtney Bormann, Senior Manager of Cloud Enablement at General Mills. Attendees will have the chance to learn from the experiences of these and dozens of other thought leaders in the industry.

The event will feature two full days of content, including keynotes from thought leaders, breakout sessions, lightning talks, and chalk talks. The nearby sponsor expo area will give attendees easy access to information and the chance to connect with leading vendors involved in the FinOps space.

For the second evening, you'll be able to attend the biggest FinOps celebration yet, taking place on the retired aircraft carrier USS Midway, docked in the harbor by the main venue. One of the highlights of the evening will be the presentation of the annual FinOps Awards, granted to leading individuals and teams from the cloud community.
Key Takeaways From the FinOps X Conference 2022
Last year's FinOps X Conference in Austin, Texas, was an enormous success, with attendees delighted by the quality of the content and the opportunities for networking and collaboration.
The Net Promoter Score (NPS) for the event soared, with 94% of reviewers indicating a high level of satisfaction and saying they'd recommend it to a fiend or colleague. The event also generated 7.3 million Twitter impressions for related hashtags during the event days.
For the first time, the conference increased from a 1-day to a 2-day event, with a 1-day expo area for sponsors. Almost 500 people attended, with a further 100 on the waitlist, hence why the FinOps Foundation has greatly increased capacity for the 2023 event
Here are some of the key takeaways from last year's event:
FinOps is growing beyond SaaS
Cloud costs extend beyond bills from Azure, AWS, and GCP. To confront this reality, FinOps practitioners are starting to expand their outlooks to manage cost in all areas of the cloud. As such, they're looking to acquire greater visibility into unit economics across the entire cloud ecosystem, including applications, security, labor, and orchestration tooling.
FinOps and TBM complement one another
While technology business management (TBM) is a collaborative framework that aims to give companies a consistent way to turn technology investment into business value, FinOps puts the focus on cloud economics, which is easily the biggest portion of that investment in many companies. Together, these disciplines can further break down silos and enhance efficiency.
Visibility into cloud spend enhances understanding
With the right tooling, organizations can track their cloud usage and costs across their entire cloud estates. In doing so, they can gain a better understanding of the real cost of their cloud and how it translates into business value. This visibility helps companies make more informed decisions about where to allocate resources and where to make optimizations.
FinOps nurtures culture by encouraging teamwork
As the FinOps Foundation itself says, FinOps is a first and foremost a cultural movement. It fosters teamwork and collaboration across departments under the guidance of a central best practices group. That's why the FinOps X event welcomes sponsors and attendees from the entire cloud community to help promote a more productive and cohesive work environment.
Greater accountability leads to empowerment
It's not only the finance department that needs to care about cloud costs, but also developers, engineers, IT, and operations teams. After all, their actions are among the key drivers of cloud spending. However, having accountability for cloud spend grants each team more power over how it leverages the cloud to deliver greater business value.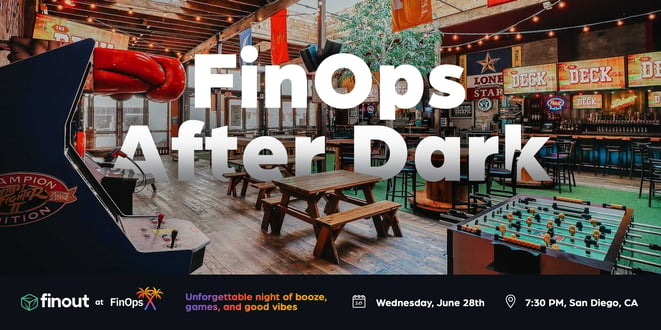 Conclusion
In conclusion, the FinOps X conference is an exceptional opportunity for FinOps practitioners, cloud end-users, and anyone involved in managing value in the cloud. With a chance to learn from industry experts and connect with other professionals in the field, attendees can expect to gain a better understanding of how to align their cloud spending to their business priorities.
Join us at FinOps X conference 2023 to enrich your connections, advance your FinOps practices, and get inspired!
As a sponsor at this year's event, we at Finout are excited to connect with attendees and share our expertise in FinOps. If you're attending the FinOps X conference, be sure to visit us to learn how we can help you optimize your cloud spending, or book a meeting today!
Receive blog and product updates
Main topics